Meyer Sound CQ-1 Wide Coverage Main Loudspeaker
Order Enquiry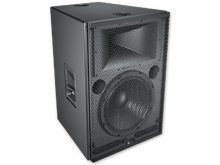 The CQ-1 wide coverage main is a self-powered, phase-corrected reinforcement loudspeaker offering precise, low-Q coverage. The CQ-1 features a patented constant-Q horn design — the result of extensive research using Meyer Sound's calibrated anechoic chamber. The frequency response of 40 Hz to 16 kHz is uniform over the entire coverage area in both the horizontal and vertical axes, with no side lobes even when measured at a one-sixth octave frequency resolution.
The CQ-1 loudspeaker's unique combination of precise pattern control, compact size, low distortion and high power make it suitable for a wide variety of installed and rental applications. The CQ-1 is perfect as the main PA in small- to mid-sized auditoriums, houses of worship, clubs and hotel ballroom settings, and is highly effective in delayed fill applications for arenas and outdoor concert systems.
The CQ-1 loudspeaker's low-frequency section comprises a single 15-inch Meyer Sound cone driver, and the high-frequency section utilizes a 4-inch diaphragm compression driver coupled to an 80-degree by 40-degree constant-Q horn.
The sophisticated MP-2/CQ-1 power amplifier is integrated into an accessible, lightweight rear module. The amplification, processing and protection circuitry produces consistent and predictable results in any system design. The proprietary two-channel amplifier employs Meyer Sound's proven class AB/H design with complementary MOSFET output stages, and delivers 1240 watts burst power (620 watts per channel). Audio is processed through an electronic crossover and correction filters for phase and frequency response, as well as driver protection circuitry.
Each amplifier channel has TruPower limiting technology which maximizes loudspeaker reliability, minimizing power compression and extending component life. TruPower also affords higher continuous SPL capability at all frequencies with maximum headroom and regulates voice coil temperature. Limiter activity is easy to monitor with the limit LEDs on the rear panel.
The MP-2/CQ-1 amplifier's power supply incorporates Meyer Sound's Intelligent AC™ system, which performs automatic voltage selection, EMI filtering, soft current turn-on and surge suppression. Intelligent AC allows fail-safe operation worldwide, with no need to manually select the AC mains voltage.
The compact CQ-1 system is housed in an all-birch multi-ply enclosure with a textured, hard shell black finish. It is flyable and arrayable using standard ring and stud pan fittings on top and bottom rated at 500 lbs (226.80 kg) with a 5:1 safety factor. An optional mounting yoke allows flexible, quick installation and easy aiming in theatrical and permanent applications.
Options for the CQ-1 cabinet include weather protection and finishes in custom colors for fixed installations and other situations requiring specific cosmetics.
The CQ-1 integrates with the optional RMS remote monitoring system, which displays signal and power levels, driver status, limiter activity, and amplifier temperature on a remote Windows computer.