ALESIS HD24 24-Track, 48kHz Hard Disk Recorder
Order Enquiry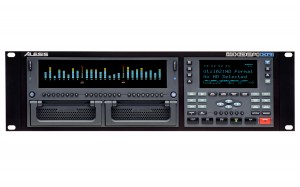 THE ONLY HARD DISK RECORDER WORTHY OF THE ADAT NAME
HD24 is the world's first 24-track hard disk recorder designed to fit into any ADAT environment and match ADAT's legendary performance and affordability.
HD24 is built exclusively for the purpose of recording music instead of data, resulting in remarkable stability and performance. HD24 enables engineers to record up to 24 tracks of high-resolution 24-bit recording at 44.1 and 48 kHz sample rates.
Two hot-swappable media bays provide convenient access to recording drives and allow data backup in minutes. You can edit tracks internally or easily transfer to computer via an Ethernet connection.
HD24 features ADAT Optical and ADAT Sync, enabling it to work efficiently with existing systems. It offers the same exceptional user-friendly interface ADAT users have come to expect.
HD24 can be upgraded to HR24XR with the EC2 module. This user-installable option replaces the A/D and D/A converters with the renowned AKM converters used in the acclaimed MasterLink. EC2 improves performance at all sample rates and also expands analog and digital-input compatibility to include 88.2 and 96 kHz sample resolutions.
HR24 packs 24 channels of digital audio I/O into a single-unit recorder that easily fits into any environment.
Alesis reinvents digital recording. Again.
24-track, 24-bit digital audio recording (12 tracks at 96kHz with EC2 optional updgrade)
24 analog inputs (1/4″ TRS)
24 analog outputs (1/4″ TRS)
24-channel ADAT Optical I/O
Dual recording bays utilize standard, low-cost, removable IDE computer drives
Instant random access to audio using ADAT/FST™ (File Streaming Technology).
Internal editing capabilities include cut, copy, paste, and track-move with undo.
Multiple units can be synchronized to create a larger system
Easily integrated into an existing ADAT system
Ethernet port enables computer connection
MIDI I/O, MTC out
ADAT Sync in/out
Word Clock in